by Janet Crain
Whatever your beliefs are about this controversy, I think only someone consumed with loopy liberal logic as Joy Behar could make the comments she did this morning on The View. In an attempt to refute the idea that there is a wonderful possibility that a child might turn out to be a bright intelligent worthy human being if given the chance and not aborted, she said "Yes, but they might also turn out to be a serial killer like Ted Bundy".
This is so stupid, it defies comprehension. Using that logic it would be inadvisable for anyone to have a child. And that would be a most tragic end of our human race. I'm so glad most people understand that
FAITH is the
substance of things HOPED for, the
evidence of things unseen
, and take that lovely leap of faith to bring a new person into this world, imperfect as it may be. Joy Behar seems to be a bitter old person who has never known the joy of the pure love of a child.
Please let CBS know you support their decision to run this ad.
Send an email to

:

audsvcs@cbs.com

or go here and fill out this form:



http://www.cbs.com/info/user_services/fb_global_form.php
Anti-abortion group to screen TV ad to 100m Super Bowl viewers
Christian conservative group Focus on the Family buys costly 30-second spot during American football final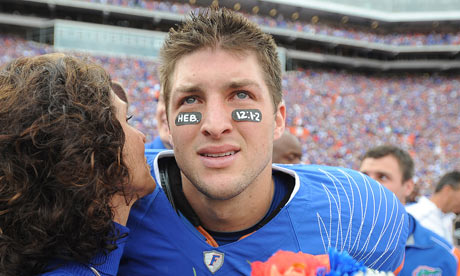 Next month's Super Bowl broadcast, which garners an enormous TV audience, will feature an advert paid for by an anti-abortion evangelical Christian group.
A former college football star known for his outspoken beliefs will appear in the costly 30-second spot bought by Focus on the Family, a Colorado-based ministry influential in Christian conservative politics.
Nearly 100 million Americans are expected to tune in to Super Bowl XLIV on 7 February in Miami Gardens, south Florida. The adverts attract nearly as much attention as the game itself, with Americans watching to see how brands vie for consumers' attention. The Focus on the Family advert is a rare spot from an advocacy group.
The advertisement will feature Tim Tebow, former champion quarterback for the University of Florida football team, who painted Bible quotations under his eyes during games. Focus on the Family and CBS television, the network broadcasting the game, did not disclose the cost of the advert, but media analysts say the cost of a 30-second spot will run between $2.5m and $2.8m.
The advert, entitled Celebrate Family, Celebrate Life, will feature Tebow and his mother Pam, who will tell what the group describes as an inspiring story from her life. It has not released details of the advert, but US media have speculated that she will describe a 1987 pregnancy during which she became ill on a missionary trip to the Philippines. She ignored medical advice to have an abortion, instead giving birth to Tim.
"We're not trying to sell the American people a car or a soft drink," said spokesman Gary Schneeberger. "We're celebrating families."
Schneeberger said the group hopes to influence couples having "struggles" in their marriage. Tebow's father, Bob, runs a group that leads evangelical missions in the Philippines and founded an orphanage there.
The Super Bowl airs alongside creative but often crass adverts for beer, car manufacturers and internet companies, and the network that broadcasts the game normally shies away from controversy. In addition, advocacy groups typically lack the budget to purchase Super Bowl airtime. Focus on the Family said the funds were provided by wealthy supporters.
This blog is © Janet Crain
Click here to view all recent Sarah Palin in 2012 posts