WASHINGTON (CNN) -- Several senior Democratic advisers to the White House are urging President Obama to further step up his personal involvement in the health care debate, as administration allies privately warn the president's push for a major reform bill is hitting major roadblocks at a critical juncture on Capitol Hill.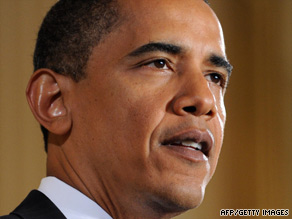 President Obama says health care reform is one of his top priorities.
The Congressional Budget Office's estimate for the Kennedy bill -- that it will cost $1 trillion and yet leave millions of Americans without health insurance -- has given Republicans strong political ammunition to charge reform may be too expensive at a time of massive federal deficits.
"We're going to need the White House to step it up a little bit and get more engaged," said a second Democratic adviser, who acknowledged concerns that Republicans are gaining steam in the message battle. "We've got some time to sort this out, but decision time is just around the corner."
This second Democratic adviser said the CBO's $1.6 trillion estimate for the Baucus bill was particularly jarring to Democrats because it was "several hundred billion dollars more" than expected.
Baucus, chairman of the Senate Finance Committee, announced this week he's pushing back the official unveiling of his legislation until after July 4 -- a delay that imperils White House hopes the Senate can finish work on the issue before leaving town for its August recess.
But senior White House officials contend that while there are legitimate concerns about the status of the legislation, the president is still confident the setbacks are a normal part of the legislative process and it will eventually get back on track.
"We're not hysterical," said one senior White House official. "We've seen this movie before: [the Congressional process] looks like a total mess, nothing is getting done, and then something happens."
White House press secretary Robert Gibbs said Thursday that despite the partisan rancor, Obama believes Congress can work out its differences and deliver a bill in 2009.
"I don't think it's a surprise that this is going to take some time to do," he said. "It's an issue that we've been discussing for 40 years."
http://www.cnn.com/2009/POLITICS/06/19/health.care/index.html?eref=rss_politics
© Janet Crain
Click here to view all recent Sarah Palin in 2012 posts