By Susan Lisovicz
CNN Correspondent
CNN's Susan Lisovicz sat down with her uncle Lenny Lisovicz, a decorated D-Day veteran, to talk about his experiences at war.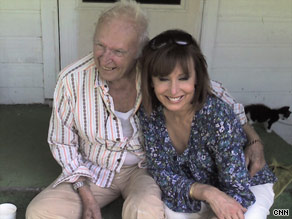 CNN's Susan Lisovicz spoke to her Uncle Lenny about his D-Day and war experiences.
For 65 years my family had heard whispers that he and 220 men stormed Omaha Beach and that he and his captain later went AWOL in Paris, France.
They heard he returned to combat and fought all the way to Germany and his courage was rewarded with the prestigious Silver Star.
Then -- after that sacrifice and loss -- he was committed to a hospital.
On the 65th anniversary of D-Day, Uncle Lenny finally talked at length about everything he had seen and done. And he said it was all true.
Nowadays, Uncle Lenny lives a tranquil life. At 91, he is proud of his garden, where he grows corn, tomatoes and grapefruit. He takes in stray cats, attends Mass and sends money regularly to Catholic missionaries.
But his thoughts are never far away from a sliver of sand thousands of miles away. He turned down my offer to visit Normandy.
"I don't want to see it. I try to rub that out of my mind. It won't go away," he said.
But now, he finally agreed to share his memories.

Watch Uncle Lenny describe storming the beach » See below.




It began with The Longest Day: June 6, 1944. My uncle was a 26-year-old lieutenant with the Army 1st Infantry Division, the famed "Big Red One." They had been training in England for something big for months.
Then, over the loudspeakers in the barracks came the famous declaration from Gen. Dwight Eisenhower: "You are about to embark on the Great Crusade."
The Germans were taken by surprise in one of the greatest amphibious invasions of all time, which would mark a turning point of the war in Europe.
"I just imagined what that enemy observer felt when he looked through that concrete bunker and looked out at that ocean and all he could see was boats, warships," Lisovicz said.
© Janet Crain
Click here to view all recent Sarah Palin in 2012 posts